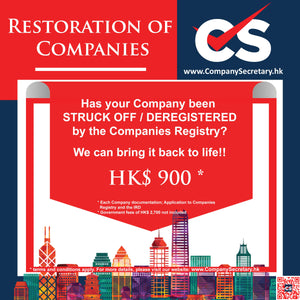 This service includes
Preparation of the Documentation and email for your signatures

Once received a signed copy in Original from you, we will arrange to submit to the Companies Registry

Send you the receipt confirmation

Once the company is restored we will email you the Companies Registry Letter for your record.

Kindly note that we can restore the company that has been deregistered by the Companies Registry, for other matters please contact us.

If there is any Government liability, the client has to settle that liability. It is not included in fees.