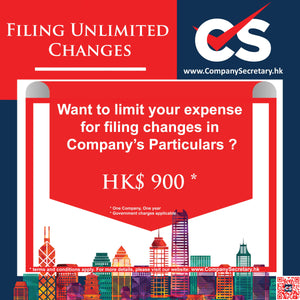 This service includes
The service contract for this service is one year.

We can  help you prepare and submit the documents related to Company for unlimited changes
For each request we shall:
Prepare document and email for your signatures
If the Government charges are applicable for the document, we will email you, once the charges are paid by you to us, we will submit the documents.
Once received a signed copy in Original from you, we will arrange to submit to  the Companies Registry
Send you the receipt confirmation
After the document is accepted by the Companies Registry which is usually a week time, we will send you a copy of the Official Document for your reference and records.
Kindly note that the service fee do not include the fees paid to the government.
We will send you reminder a month before the contract expires. If the contract is not renewed before the contract expiry date we will charge you the normal service rates for further documentation.